Virtual Groups
If you have a long list of programs, it is very convenient to divide them by type. For example, Games can go in the Games folder and Office applications in the Office folder.
Old programs, such as Tidy Start Menu created folders on the drive and placed programs there. However, this led to some problems. For example, you have installed Microsoft Office and by using Tidy Start Menu placed this program in the Office folder. You will then have
Start Menu\Office\Microsoft Office,
but if a new version is installed it will be in the root menu and you will have two folders,
Start Menu\Office\Microsoft Office
Start Menu\Microsoft Office
or if you remove Microsoft Office, you will have trash,
Start Menu\Office\Microsoft Office
therefore, this old approach required constant cleaning and effort!
New Generation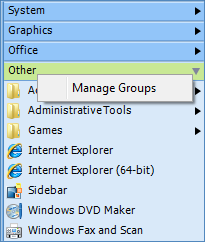 The new program Start Menu XP completely replaces the menu, which makes it possible to create Virtual Groups.
In other words, the location of the shortcuts does not change and Start Menu XP notes which group the program belongs to in its database. To edit the group, just run Group Manager by right clicking and selecting Manage Groups, or by starting it from the Start Menu XP folder like an other program.
In the free version you can only place programs into existing categories. In the PRO version you can edit groups as you wish.
Converting from old programs
If you created a real folder group in Tidy Start Menu or other program, you can easily convert it into a virtual one. Just start Group Manager and from the program list drag the folder with the old group to the button Add Group. Start Menu XP creates the virtual group itself and moves the programs to it.
Note:This function is available only in the PRO version!
Note: Under Windows XP the empty folders may appear after converting. Please right-click over it and delete empty folders manually.